133 S. Main St., Mount Holly, NC 28120 | 704-827-0521
Our Pastor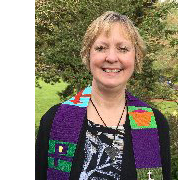 The Rev. Janet DeWater began serving as pastor of First Presbyterian Church in June of 2017. She is a graduate of San Francisco Theological Seminary - the "Presbyterian Seminary of the West." Her passions include praising God through creative worship, cultivating a climate of welcome for all of God's people, serving those in need, and all things chocolate!
Janet, her husband John and daughter Nora enjoyed a cross country drive as they moved here from their former home in Redmond, WA. Their son Paul and his wife, Kendra, are currently pursuing master's degrees at Miami University in Oxford, OH. Nora is a student at Belmont University in Nashville, TN pursuing a degree in audio engineering technology.
Janet is in the office Tuesday through Friday and her door is almost always open - feel free to stop by for a quick hello or to share a joy or concern or an idea you have for ministry!
First Presbyterian Church of Mount Holly | 133 S. Main St. | P.O. Box 687 | Mount Holly, NC 28120
704.827.0521 | FAX 704.827.2351 |
fpcmth@aol.com